This page is for Windows. If you are using Mac the instructions are here.
Download the installer
You will find the download link:
in the confirmation page of your purchase
in the email your received from admin(at)fotomojo.fr right after your purchase. This email also contains the essential licence key!
Download the Zip file and move to the next step
Open the ZIP file and install double click on the version which corresponds to your operating system:
NanoJPG works on Windows and Mac. But make your life easy: install the windows version on Windows and the Mac version on MAC.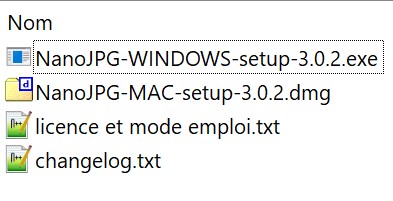 As you're here I assume you are using Windows. So just click on NanoJPG-windows-setup…. and follow the instructions.
Normally it all works. But here are some problems you might face:
Potential problem 1: Failure: insufficient authorisations
Solution: save the installer above anywhere and then go to that location and right click on the installer. Chose the option "Run as administrator".
Potential problem 2: Missing file msvcp140.dll
Solution: we have a detailed walkthrough here
Running NanoJPG
Once the installation is successful, just click on the windows icon in the bottom left corner of your screen and start typing NanoJPG. You will see the icon appear and that's it: you launch NanoJPG.
Activating NanoJPG
On your first launch of NanoJPG you will be greeted with a request to enter your licence key. This key is in the confirmation email you received from me from admin (at) fotomojo.fr. It's a 32 character code.
Don't try to open the invoice PDF: there's a code in there as well, but it's not the right one. The one you are looking for is in the body of the email.
Simply copy this code and then paste it into NanoJPG.
NanoJPG can be activated on 2 machines at the same time.
Note: an internet connection is required to activate NanoJPG. But afterwards you can use NanoJPG for up to 10 days without needing to reconnect to the Internet. See more details in the page Managing your NanoJPG licence.
If you want to integrate Lightroom and NanoJPG click here.